A list of helpful tips to ensure you have a smooth move-in and incredible OWeek.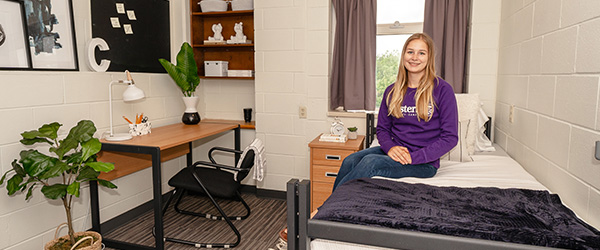 Dear Student,

Move-in day is approaching fast, and we are excited to welcome you to residence! For most of you, this will be your first time moving away from home, so you probably have questions. We've put together a list of helpful tips to ensure you have an easy move-in, and incredible OWeek.
Your Move-In Date
This year's move-in days have been extended to the period of September 3-7. You can log in to the myHousing Portal, and book your preferred arrival date and time, starting 9 a.m. EDT, on Friday, August 14. To support physical distancing, we ask that you only have a maximum of two (2) people to come along and help you move your belongings into residence. Everyone will be required to wear a face covering in the buildings and in the loading areas. Our student leaders will be around to help guide you.
Packing for Residence
Everything you bring should fit into one shopping cart. Take a look at our full list of what you should bring, and review these helpful packing tips:
If you plan on visiting home throughout the year, leave behind the things you don't need yet (like winter coats) to save space.

For all first-year buildings, we recommend purchasing twin XL bed sheets. For those living in London Hall or Alumni House, our two upper-year residences, the mattress size is a double. Order through Residence Linens now and they will be here for you when you arrive.

Please make sure that you label your belongings with your full name, and room number which will be sent to you via email a few days before move-in. That way if something is misplaced during your move, we can easily get it back to you.

To keep your belongings safe, avoid packing them in garbage bags. For heavier items, use large plastic containers that can be reused later for storage. Some residence beds have storage room underneath.
Arriving on Campus
There may be traffic on your move-in day, so allow for extra time to get around campus. Wayfinding apps like Google Maps are helpful, but not always accurate (Ontario Hall does NOT have an entrance off Sarnia Road). Print out your move-in route map that shows your building route, drop-off location and directions to long-term parking. Please note that you could be ticketed if you leave a vehicle unattended in a traffic route.
Preparing for Class
Soon it will be time to hit the books and start class! Whether you are looking for textbooks, school supplies or Western swag, The Book Store has you covered. Log in to review your personalized textbook list, and beat the rush by ordering online.
To quickly and safely pick up your Book Store orders on campus, take advantage of the curbside pickup location at the Great Hall, in Somerville House—available from August 31 to September 18. Simply choose 'Curbside Pickup' when placing your online order starting August 24.
If you are worried about finding your way around campus, download the WesternU Mobile app on your phone, so you can easily access campus maps, as well as eateries hours, course schedule, etc.
Western ONECard
Your Western ONECard is more than just a photo ID. It also functions as your meal plan card, library card, bus pass, and is used to access residence buildings and to write exams. If you haven't done so, please make sure you upload your photo before August 21, 2020. You will then receive your card when you check in on your move-in day. Check out this page for detailed photo standards.
If you miss the August 21 deadline, you will have to pick it up at the Great Hall in Somerville House, together with other students living off campus. More information will be posted on the Office of the Registrar website in the coming weeks.
Getting Involved
Once you're settled in, there are so many opportunities for you to get involved and make the most of your residence experience—like planning incredible experiences for your building by joining Residents' Council.
Also get to know your building-mates by introducing yourself in your official Facebook group below! To join your group, you must link your Western email address (ex. jsmith@uwo.ca) to your Facebook account before you request membership. Instructions on how to do this can be found in your group's description.

residence.uwo.ca
Housing & Ancillary Services, Western University
3C10 Ontario Hall, 230 Sarnia Road
London, Ontario, Canada, N6G 0N2
Tel: 519-661-3547